About Todd Crowell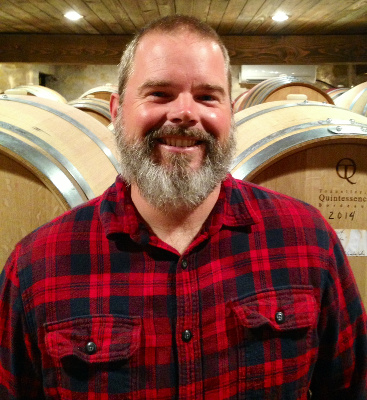 Native Texan Todd Crowell has served as the winemaker for Spicewood Vineyard since 2012. His philosophy is that making great wine starts in the vineyard.
Todd loves being connected to the land and working through the seasonality of winemaking. He relishes the opportunity to handle the vagaries of the Texas climate and its unpredictable impact on grape growing. Todd delights in the challenge of achieving consistency and balanced ripeness despite the curve balls that erratic weather conditions can throw. Overcoming weather challenges is where he can show off his winemaking skills with a light touch, letting the wines showcase the vineyard and vintage.
With a Bachelor of Science degree in horticulture, Todd brings a scientific approach to winemaking. He sees winemaking as the perfect blend of art and science, using his artistic skills to decide what a wine needs and science to execute those decisions. His greatest satisfaction is seeing people enjoy the fruits of his hard work.
His wine journey can be traced back to early adulthood. During college, a friend shared a birth-year bottle of 1975 Château Lafite Rothschild. That world-renowned Bordeaux wowed the young college student and set him on a path to begin working in a winery. While studying at Texas A&M, he had the opportunity to get hands-on wine-making experience working for several Sonoma wineries, and soon after had a full-time job at a winery.
Todd came to Spicewood Vineyards with an impressive winemaking pedigree. He served as assistant winemaker at White Oak Vineyards & Winery and Stonestreet Wines, and winemaker at Christopher Creek Winery in Sonoma County.